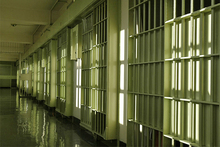 A former Earthquake Commission software developer has been sent to prison for more than four and a half years for his part in smuggling $1 million worth of cocaine into New Zealand.
Brendan John Clarke was charged in December last year over an attempt to get 2.985 kilograms of the Class A drug into the country.
He pleaded guilty to the charge in May this year, and was last week sentenced to four years, eight months in prison.
Justice Robert Dobson's sentencing notes, released today, said a foreign national arrived in the country with the drug hidden under the hard plastic lining of a suitcase.
The Crown then said the original purchaser of the drug fell through, so an associate approached Clarke to see if he could find buyers for the drug, through people he had known when he was a DJ.
Clarke initially expressed interest, but later changed his mind.
By that time the drug was already en route to where he was in Wellington, so he stored the package with the intention of passing it on to someone else.
"You duly took possession of the suitcase containing the cocaine and you paid the person who delivered it to you $2,000 for doing so. You had opened the suitcase to inspect the cocaine when the Police intervened," Justice Dobson said.
Clarke started work with the EQC in 2010, where he inspected damaged homes and supervised builders as well as developing software to improve the inspection process.
"In explaining your offending, you [said] that you were in a high pressure and stressful environment at work, and that this was one of the main drivers for your decision to offend," Justice Dobson said.
In sentencing Clarke, Justice Dobson said he saw no need to impose a minimum prison term.
- APNZ