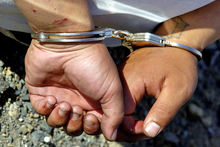 Rotorua police have made three arrests in relation to a spate of recent aggravated robberies in the city, but are still seeking the public's help to find other offenders.
Tane Riritahitaharo Huta, 21, unemployed, appeared in the Rotorua District Court yesterday afternoon charged with the aggravated robberies of Westbrook Tavern on June 30 and July 10.
It is alleged that on the first occasion, Huta was armed with a knife and a metal crowbar, and during the second incident, he was armed with a firearm and a metal crowbar. It is alleged he committed the offences for cash. Huta has not entered pleas to the charges.
Duty solicitor Alastair Burns appeared on Huta's behalf yesterday and told Judge Jocelyn Munro that a lawyer needed to be assigned to him.
Huta has been remanded in custody to appear in court again tomorrow.
Earlier yesterday, a 15-year-old male appeared in the Rotorua Youth Court charged with the June 30 aggravated robbery of Westbrook Tavern.
Judge Munro remanded the youth, who cannot be named for legal reasons, in the custody of Child, Youth and Family to appear again in the Youth Court on July 24.
The youth has not entered a plea to the charge.
Meanwhile, an 18-year-old appeared in the Rotorua District Court last week charged with the aggravated robbery of Ranolf St Superette on July 9, when he was allegedly armed with a tomahawk. He has been remanded in custody to appear on July 30 when it is expected he will make an application for bail.
Detective Senior Sergeant Zane Smith of the Rotorua police told The Daily Post they were still keen to hear from anyone who had any information to help identify outstanding offenders from the Westbrook Tavern offences.
Police are also still looking for information in relation to the Mitchell Downs robbery on Saturday and Fenton St Dairy robbery last week.
Police warned people to stay calm if they found themselves face-to-face with a robber.
Mr Smith said shop or bar workers needed to remember COOP, which stood for calm, obey, observe and preserve.
"Staff who are confronted by a robber should stay calm, do what the offender says, observe as much as they can to pass on the information to police and preserve any evidence because it could help the investigation."
He also urged people to not put themselves in danger.
Anyone with information about the aggravated robberies should contact Rotorua police, phone (07) 348-9400 or, alternatively, information can be provided anonymously via Crimestoppers on 0800 555-111.
By Anita Moran of The Daily Post, Abigail Hartevelt