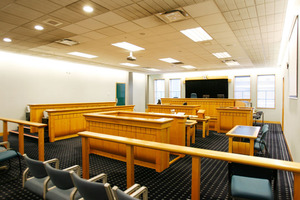 File photo / NZ Herald
The ex-wife of a former Olympian broke down in tears as she described being punched in the face then forced to have sex against her will.
Her former husband, facing assault and sexual charges, sat impassive as the High Court at Auckland heard how their "whirlwind romance" became a rapidly disintegrating marriage.
The case had previously been before the court in 2010 with the athlete acquitted on some charges. The jury was unable to reach a conclusion on other charges, leading to the fresh hearing. When the athlete returned to court yesterday, it was to face 11 charges stemming from relationships with two women. The Crown revealed new charges from a former relationship from 1998 which included rape, assault and kidnapping. The sportsman, whose identity is suppressed, denies all the charges.
Crown prosecutor Fionnghuala Cuncannon said there would be "remarkably similar evidence" of the man's "controlling behaviour, his anger, his violence and how he physically and sexually abused them".
She said the women would explain why they had not sought help im-mediately. "These were the attacks of a man they loved and believed in."
She said the most recent complainant married the accused after a "whirlwind romance". The first abuse happened just a month later when the man strangled and then raped her.
She said aspects of the abuse in the 1998 relationship were dealt with at the time. However, she said the woman was not able to disclose all the details until recently. Those included ongoing assaults and sexual violation through the relationship which were covered by a single representative charge. The assaults included one following the early rejection of a marriage proposal by the sportsman. "When she told him she thought it was a bit early to get married, he punched her in the face."
Defence lawyer Hugh Leabourn said there were no cases of violence or unlawful sex. He said his client and former wife "had issues" in their relationship "as do most couples". He said the claims from the 1998 relationship had been dealt with at the time. "These charges have surfaced 12 to 14 years later. You have to examine the plausibility of that."
The first witness called was the man's former wife. She said the couple discussed the prospect of separating six months after getting married.
The trial continues.