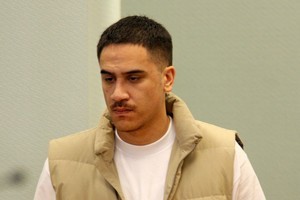 Christopher Shadrock. File photo / Natalie Slade
A jury has been told to look at the bigger picture when deciding whether a man ran down a woman after snatching her handbag.
Summing up in the murder trial of Christopher Shadrock, 25, began in the High Court at Auckland this morning after a five-week trial.
Shadrock allegedly ran Mrs Wang down in a stolen 4WD in the carpark of the Manukau Westfield shopping centre in June 2008 after snatching her handbag.
Mrs Wang died of head injuries in hospital the next day.
In summing up the case this morning, Crown prosecutor Kevin Glubb told the jury to look at the bigger picture.
"It was a bag-snatching that just went so horribly wrong,'' he said.
"She didn't stand a chance.''
In her handbag was between $2000 and $4000 worth of till takings from the small bakery she owned, he said.
In his opening address in June, Shadrock's lawyer Chris Wilkinson-Smith told the jury that Shadrock did not intend to hurt anyone when he drove off with the handbag.
But Crown prosecutor Kevin Glubb told the jurors in his opening address that Shadrock had options as he left the Manukau carpark, and the killing was unnecessary.
He said Shadrock ran Mrs Wang down in his desperate attempt to get away.
In the days after the incident, Shadrock's friends allegedly tried to help him by hiding the handbag and burning the stolen car they knew had been used to allegedly kill Mrs Wang and would tie him to the crime.
Four of Shadrock's friends have also been on trial for their alleged parts in the crime.
Maka Tuikolovatu has denied hiding Mrs Wang's handbag at his home.
Three others - Vila Lemanu, Lionel Tekanawa and Terence Tere - have denied destroying evidence, namely setting fire to a Nissan 4WD in the days following Mrs Wang's death.
The trial has been before nine women and three men since June 11.
The Crown's summing up continues.
- APNZ