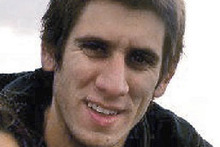 The father of a man who survived a crash that claimed the lives of four South American tourists has said it is a miracle his son lived.
Benjamin Blake, 25, from Chile remains at Waikato Hospital in a stable condition following the crash at National Park on Wednesday.
His fellow Argentine skifield workers, German Caceres, 35, Agustin Donofrio, 25, Luciano Pucheta, 19, and Nicolas Ursic, 27, were killed in the head-on crash with a truck as they drove back to their accommodation in Whakapapa after an indoor soccer game.
Mr Blake's underwent further surgery yesterday with his father Dr Eric Blake, who arrived from Chile, by his side.
The 25-year-old has broken left leg, two broken bones in his left forearm, two broken ribs and grazes on his body.
Dr Blake said he, his wife, and their four sons offered their prayers and condolences to the families of the men who died in the accident, and described his son's survival as a miracle.
He said he was very grateful for the people and emergency services who rescued and treated his son at the scene and to all the medical staff, doctors and nurses, at Waikato Hospital.
"They were all very professional. The care he is receiving is appropriate and I have been impressed by that," he said.
Police said the Holden Commodore the five men were in was overtaking in a dip in the road, just north of the Makatote Viaduct, when a truck and trailer came around a corner from the opposite direction.
The Westpac Waikato air ambulance attended the accident and transferred Mr Blake to Waikato Hospital.
Inspector Steve Mastrovich said the car "smacked head-on into the truck and trailer".
Any prudent driver would not have overtaken another vehicle along that section of road, he said.
He said the tourists were driving in different circumstances to what they would have been used to.
The tow truck driver who attended the crash last night, Colin Fredricksen, told APNZ it was one of the worst crashes he had seen on the job."I've seen others that have been bad, but not so many people involved."
- APNZ