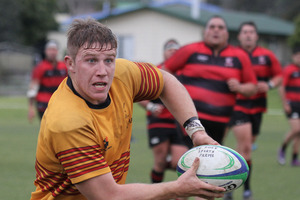 Young rugby player Nathan Harris returned to the rugby field yesterday for the first time since he was accused of a sexual attack in South Africa.
The frontrower played for Te Puke Sports Premiers as they beat Whakarewarewa 84-12 in the Bay of Plenty premiers competition. His team coach Craig Jeffries declined to comment.
Harris, who played for the Baby Blacks at the IRB Junior World Championship in South Africa last month, was accused of raping a 22-year-old woman at a Cape Town hotel the night after the team lost the final.
As a media storm broke, Harris revealed he was the accused player. He has strongly denied the allegation.
Harris stayed off the field a fortnight ago, when his team beat Rotoiti 24-17 at home. In South Africa, police said the investigation was ongoing.
"A case of rape was opened in Cape Town. No charges have been laid yet," South African police spokesman Colonel Vishnu Naidoo said last week. Last night, a colleague of Naidoo's confirmed the investigation was still ongoing.
Naidoo wouldn't give further details of the enquiry. "We never give a blow-by-blow account of an investigation."