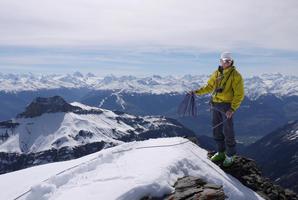 Roger Payne was a leading mountain guide. Photo / Supplied
A New Zealand woman whose husband was among nine people killed in a French alpine avalanche says she is struggling to cope with her loss.
Mountain guide Roger Payne, one of Britain's most experienced mountaineers, was swept away by the avalanche on Mont Maudit, which means "cursed mountain", as they made their way to Europe's highest peak, Mont Blanc.
The deadly slip may have been triggered by a slab of ice falling on to the loose summer snow, resulting in a 150m-wide avalanche that hit 28 climbers, killing nine of them.
Payne's New Zealand wife Julie-Ann Clyma is also a mountain guide and could well have been with her husband that day, but she was taking another group up a mountain in Switzerland.
She told the Herald on Sunday she was too distraught to talk to media.
"I'm struggling to cope," she said from France.
Speaking from Invercargill, Clyma's mother Margaret said mountaineering was "the great love of their life".
The couple had met on a mountain in Peru when Clyma was in her early 20s, and they married a few years later and settled in Manchester, England.
About nine years ago Clyma quit her job as a cancer researcher and the couple moved to a mountain village in Switzerland where they set up their own guiding business, taking climbers up many of Europe's peaks.
"They really enjoyed what they were doing, they loved mountains," Margaret Clyma said. "They'd climbed mountains all over the world, they were both very experienced."
Payne, a former president of British Mountain Guides, had written a programme on mountain safety and what to do if caught in an avalanche.
Libby Peter, the British Mountain Guides secretary and a friend of the couple, said the loss was devastating.
"It's a real shock because as a mountain guide a big part of what you do is minimise the risks, you're not going to go out on a day when you think it's too risky. There wasn't this sense that conditions were dangerous that day so it was a real surprise when we heard the news.
"If you go into the mountains a lot then you have to acknowledge that there is a risk that you take with you, you can't bring that risk to zero, and that's part of the beauty of the mountains, it's a dynamic environment."
Peter had spoken to Clyma since the tragedy, and she was struggling to come to terms with what had happened.
"We all anticipate that she's got some difficult days ahead, it will obviously take a long time for her to recover," she said.
In a 2007 article in Vertical magazine, Clyma wrote of the more than 20 expeditions she and Payne had made together to the Andes, Himalayas, and Alaska.
She said they had been hit by avalanches before on the north face of Changabang in India and Pumari Chhish in Pakistan.
"Climbing as a couple means that we get to share all the hardships together, but also all the pleasures ... for us, the summits are important, but even more important is that we come back safely."
- APNZ