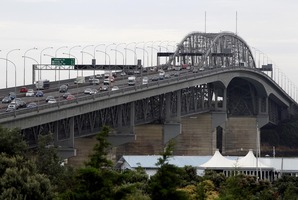 A 21-year-old man was in police custody today after abandoning his car on Auckland's Harbour Bridge and climbing into the caged walkway above.
The bridge was closed to traffic at about 2.30pm after the North Shore man stopped his car at the top and got out.
It is understood he climbed over the door of the cage that give access to the top span of the bridge, and went up the walkway on foot.
Police arrived soon after and followed the man onto the walkway.
"The man accompanied them back down without further incident other than a near-30 minute wait while bridge maintenance staff got a key to unlock the access cage door," he said.
"The man was reasonably lucid and cooperative. He did not appear to have any intention to jump (from the bridge) but gave an explanation that prompted police to take him into custody where he will be assessed by medical staff."
By 3pm the bridge was open again and operating as normal. Pedestrians and cyclists are not permitted to use the bridge and motorists are not allowed to purposefully stop on the bridge.