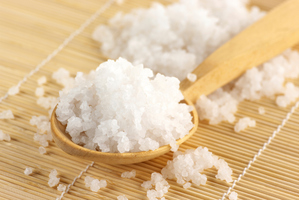 A source says that the drug 'is a fine white crystal, not dissimilar in appearance to the sort of thing granny used in her bathwater.' Photo / Thinkstock
A man who allegedly became violent after taking a drug known as "bath salts'' has pleaded not guilty to five charges including assaulting two police officers.
James Knights, 27, was supported by family members when he appeared at North Shore District Court today to face charges of intentional damage, behaving in a threatening manner, resisting arrest and two charges of assaulting police officers.
He has entered not guilty pleas to all five charges.
On July 8 police were called to a street in the Auckland suburb of Greenhithe after reports a man was "running amok'' after allegedly taking an illegal synthetic drug derived from mephedrone or MDPV and known as "bath salts''.
The man, allegedly Knights, was "very agitated'' towards the officers when they arrived at the scene, said a source.
Officers used a high dose of sedative to restrain the man after he continued "thrashing about'' in spite of being tasered twice by police.
"The man's momentum at the time was of such magnitude that the Taser prongs detached from his body. He immediately recovered and police had to use the Taser a second time - with much more success.''
He was taken into custody using "special safety restraint equipment''.
Knights, who lives Perth where he works in the mines, is due to return to the court in January for a defended hearing.
The assault charges carry a maximum sentence of six months in prison.
Knights was granted bail without any conditions.