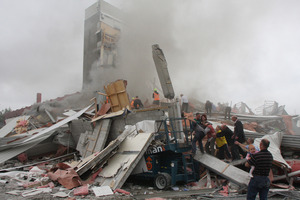 A director of the engineering company that designed the CTV building in Christchurch was "shattered'' when he learnt of its fate.
Alan Reay, of Alan Reay Consultants Ltd, said when he found out about the collapse on February 22 he was already fairly shocked.
He had been in the city when the earthquake struck.
"I guess it just added to the shattered feeling I had.''
Earlier today Dr Reay criticised the Department of Building and Housing (DBH) report into the CTV collapse.
He told the royal commission that people deserved to know all aspects of why the building failed.
"I remain dissatisfied about many aspects of the DBH report.''
He said further full scale experimentation and testing was needed.
"Only in this way can the true reasons for the CTV building collapse be known.''
Dr Reay acknowledged this would take considerably longer than the time which was available to the authors of the report, but said the royal commission currently lacked access to adequate information.
He said several factors were insufficiently accounted for in the report, including the change of use of the building over time, and the structural impact of cumulative damage from aftershocks.
Low concrete strength results found in material from the CTV building was "negligible'', said Dr Reay.
But he said those results may have been taken from columns that were affected by the fire after the building's collapse - an example of the "limited scope'' of DBH's testing.
Dr Reay also found fault with the way samples of building material were not kept as evidence for future testing, as was proposed in the draft DBH report.
He said at least five collapse scenarios had not been given due consideration in the report.
These included the effect of strain hardening on reinforcing steel, high vertical acceleration, building modifications including beam damage and the construction of an internal staircase, and the cumulative effects of aftershocks on the building.
Dr Reay referred to evidence presented earlier in the royal commission hearings of drilling carried out on concrete beams in the building in the 1990s.
"In my opinion the possibility the holes drilled in the concrete beams could have contributed to the collapse of the CTV building ought to have been taken into more consideration by DBH and appears to have been ruled out.''
He said according to drawings showing the construction of the internal staircase between levels one and two, it was installed by cutting through floors.
"I would be concerned about effects of this on the overall structure.''
Dr Reay concluded that following the September 4 earthquake, each aftershock would have reduced the capacity of the concrete reinforced building to some extent.
"I believe by the time of the February 22 earthquake the CTV building had lost some of its capacity (as a result of) all of these large ongoing aftershocks.''