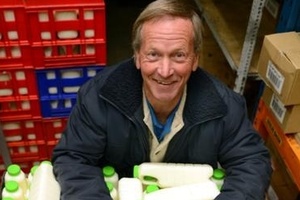 Bruce Callister says what goes around, comes around.
It's one of the main reasons the 65-year-old has spent nearly a year of his life in a chair donating nearly 170 litres of his O positive blood since 1969.
Yesterday marked his 300th donation to the New Zealand Blood Service in Dunedin.
Despite the milestone, Mr Callister was humble about his generous spirit.
"O positive - it's the most common blood type, but I guess that means it's also the most in demand.
"There's nothing special about me.
"I think we all grow up wanting to do a little bit for the community. It's as simple as that.
"I've been so lucky to be fit and healthy all my life - why not share a bit of the good stuff. What goes around, comes around."
Mr Callister said he first started donating blood while working at Cadbury's in 1969, when a health nurse working at the Dunedin factory encouraged him to get involved.
"In the early days, they just stuck a needle in my arm and the blood went into a bottle.
"These days, it goes into a clever machine which can separate the blood components so that they can take what is needed and then put the rest back in my arm."
Sitting in the donor chair for up to two hours at a time could be quite boring, but Mr Callister said he passed the time by reading golfing or car magazines, watching dvds or "giving the staff cheek".
New Zealand Blood Service nurse Helen Horsnell said it was rare for someone to donate such a large quantity of blood.
The average human body holds about 8 litres of blood, meaning Mr Callister had donated about 21 bodies full, she said.
"Bruce has given the most out of all our donors here.
"People like Bruce save lives," she said.