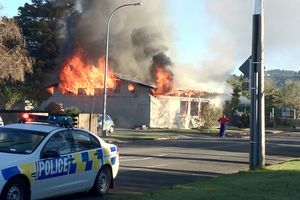 A group of young children followed a fire drill "to a T" to escape a blaze in a Kaikohe day care centre this morning, police say.
Firefighters found the ABC Learning Centre on Park Rd engulfed in flames when they arrived there just after 9am this morning.
Fire Service northern communications shift manager Tony McDonald said thirteen children and eight adults had evacuated the centre by the time emergency services arrived.
No-one was injured or missing, he said.
Police constable Chris Quitta said the children had carried out a fire drill they practiced at the centre every two or three weeks.
"They had it pretty much down to a T."
Mr Quitta said the centre had been completely destroyed by the blaze.
It was a big loss to the Kaikohe community, he said.
"It's just completely gutted...
"It's one of our local businesses. That's people's livelihoods. It was very much well attended. A lot of kids went there."
Mr McDonald said fire crews had extinguished the blaze by 10am.
Fire Safety Investigators were looking into what caused the blaze.
It was not thought to be suspicious, police said.