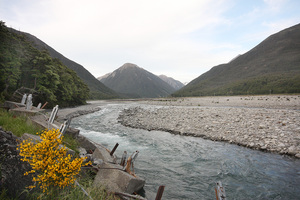 Lale Sioa Taiulu drowned after hauling his 12-year-old brother, Maifea, to safety. Photo / Herald on Sunday
A Christchurch teenager who drowned in the Waimakariri River after rescuing his younger brother has been honoured posthumously for his bravery, but his family has yet to be informed.
Lale Sioa Taiulu, 16, drowned after hauling his 12-year-old brother, Maifea, to safety when a swimming outing for two families near the old Waimakariri River bridge went tragically awry in January 2008.
A 26-year-old father of three, Larry Pau, who lived just three doors from the Taiulu family, drowned in the same incident.
Coroner Sue Johnson recognised Sioa's bravery at an inquest into the two deaths in 2009 and last year recommended him for a posthumous award.
She said Sioa, a Burnside High School student and promising rugby player, died "after performing an heroic act in saving his brother's life".
The Royal Humane Society awarded Sioa Taiulu its "In Memoriam Certificate" honouring his "courage and humanity" in his memory last April, but extensive efforts to track down his family have drawn a blank.
Society secretary Norman West said the Pau and Taiulu families were related, but he'd been unable to contact anyone from either family.
"Unfortunately, despite every endeavour I have made following many leads, I have been unable to trace them," he said. "I've done my best. I've talked to a lot of people"
Mr West said he hoped someone from Sioa Taiulu's family would come forward to receive the certificate.
"We're faced with throwing something out there in the hope one of your readers is a member of, or knows of someone from the extended family," he said.