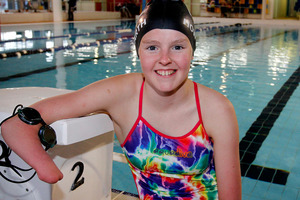 Nikita Howarth was aged 8 when Olympic cycling great and local heroine Sarah Ulmer visited her school with the gold medal she won at Athens in 2004.
So inspired was the Cambridge student that she went home and told her mum, Carmel: "I'm going to the Paralympics and I'm going to win a gold medal on my pushbike."
Five years on, the now 13-year-old is about to fulfil the first part of her dream, as New Zealand's youngest competitor at this year's Paralympics in London late next month.
But it will be in the pool, rather than on the track where she'll be trying to make the second part come true.
"I think I can do another two Paralympics in the pool, but I still want to ride at the Paralympics, so it can still happen," she said.
The Cambridge High School student, who was born without hands, , began swimming about the same time she met Ulmer.
She received a call from Paralympics New Zealand at the end of June after a nervous month-long wait saying she had made the swim team of eight.
"I was pretty excited, but then I went to tell my coach and he didn't even listen to me, he was like, 'yeah, I know'.
"He kind of expected it and didn't seem too surprised."
It's the latest in a stellar swimming career for the teen, who trains six days a week under former Romanian Olympic swimming coach Narcis Gherca.
Last year she competed against women more than twice her age in the open division and won a silver and a bronze at the Pan-Pacific Para-Swimming Championships in Canada.
She bettered the 3m 14s qualifying time for her specialist event - the 200m individual medley - at this year's Central North Island swimming championships but needed to repeat the feat at the British International Disability Swimming Championships in Sheffield in May. She did it with a second to spare.
The Paralympics start on August 29.