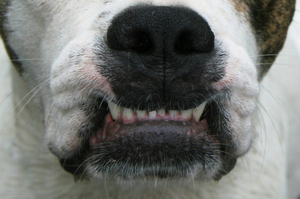 A pitbull which attacked a Northland man while he tried to rescue his wife from a car crash will be destroyed.
The Dargaville resident, believed to be in his 60s, was driving his car down Tangowahine Valley Rd, north of Dargaville, in fog about 9.30am on Saturday when it is believed the vehicle hit a tree and landed in a paddock.
The driver got out to check on his wife and went for help when he realised she was not badly injured.
But as he returned to the car to help his wife "this bloody pitbull came from the place next door and latched onto his leg," local Hugh Rose, who was one of the first on the scene, said.
"It came from the property about 50 to 100 metres away and attacked him. It caused a bit of damage and he was bleeding."
Mr Rose and the man chased away the dog. Police were called and got the dog taken away by animal control staff.
The driver was taken to hospital for his dog-bite injuries.
A spokesman for Environmental Northland, which manages dog control in Northland, said the pitbull cross was in their care.
The dog owners would be spoken to and it would be requested that they let their dog be destroyed.
If the owners did not let this happen, then Environmental Northland would take them to court, he said.
- APNZ