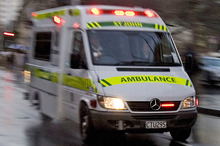 A mother driving with four young children failed to give way at a busy Cambridge intersection yesterday, leaving six people in hospital.
Emergency services were called to the crash at the intersection of State Highway 1 outside St Peter's school on the outskirts of Cambridge where a 34-year-old mother, with four young children in her car, failed to give way to an oncoming car, Inspector Leo Tooman said.
Four Palmerston North women, all from the same family, who were travelling in the oncoming car, were taken to Waikato Hospital.
The 32-year-old driver and her one-year-old daughter, from the car which failed to give way, were also taken to hospital.
This morning a Waikato District Health Board spokeswoman said the four Palmerston North women, aged 47, 21, 17 and 13, all remained in hospital in stable conditions, as well as the mother and daughter.
Mr Tooman said the crash happened when there was bright light and the sun was low in the sky.
"What we're asking is that regardless of the climatic conditions you check, then check again before pulling out, it could make all the difference," he said.
Police were talking with roading authorities to discuss whether there was any road fault that could be considered a contributing factor to the crash.
"It is still the driver's responsibility to ensure the road is clear before proceeding. If uncertain just don't go, the stakes are too high."
- APNZ
- APNZ