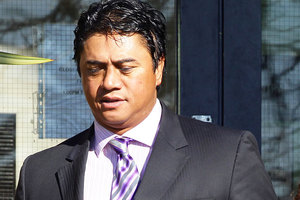 Former rugby league star Tawera Nikau has been convicted and fined $250 after assaulting his daughter.
Nikau was found guilty of assault at the Hamilton District Court on June 1 after he grabbed Heaven-Leigh by the throat outside the Huntly police station on February 24.
Heaven-Leigh said he was "angry and hyped" as he grabbed her tightly by the throat and dragged her on to the footpath.
The court earlier heard that she tried to push him away and after several seconds he let her go.
His lawyer Gary Gotlieb had asked for a discharge without conviction as Nikau had done "volumes" for the Huntly community.
His request was opposed by his daughter and the judge, who said there had to be consequences for his actions.
The judge ordered Nikau to pay $250 in reparation in the next 21 days, as well as $132.89 court costs.
- Herald online