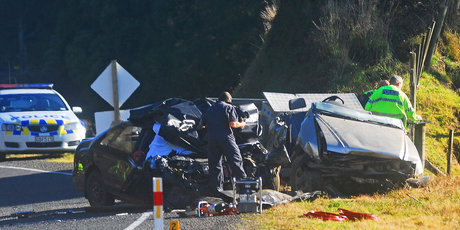 A family have been torn apart after a nephew and uncle were killed instantly as their car smashed head-on into a ute driven by their cousin.
Turuki Kereopa, 17, and Katiana Kereopa, 37, were driving home after a family tangi when their Honda sedan collided with the Toyota Hilux of Tom Kupa, 39, on State Highway 2 at Nukuhou near Whakatane, about 7am yesterday.
Kupa was cut from his mangled ute and flown by the Trustpower TECT rescue helicopter to Tauranga Hospital for surgery. He was last night listed as serious but stable in the intensive care unit.
Father of seven Katiana worked in forestry and was living in Hastings. Turuki was at school.
Last night Katiana's sister Frances said it had taken a terrible toll so soon after the death of their aunt, Jackie August.
"I am so shocked," she said. "We are very close."
An aunt, Theresa August, said the family had gathered at a funeral home in Whakatane.
"So we have just buried my sister Jackie and now we are getting ready to bury these two boys," she said.
Emergency services said the quick reactions of residents Sandy and Don Pirihi, who went to look for the accident after hearing the crash, might have saved Kupa's life.
The couple had been in bed when Sandy woke to the sound of a "massive bang" about 6.25am.
At first she thought it was something on the farm, but when Don looked through the kitchen window and saw stationary headlights on the highway, he knew something was very wrong.
They grabbed torches and cellphones to call 111 and drove to the scene near the Glenholme Rd intersection.
The damage to the Kereopas' vehicle was so bad that it had to be towed to Whakatane before the bodies were removed.
Waimana deputy fire chief Ian Bell said: "It makes you realise just how instant it can be.
Death can be just like that. They were still in their seats, in the car."
Fire appliances from Waimana, Taneatua, Opotiki and Whakatane attended, along with three ambulances and several police officers.
Residents reported seeing thick fog yesterday morning and there were no signs of braking along the straight stretch of road.
Kupa, a logger constructor, had been on his way to work in Rotorua.
Police crash scene analysts spent more than two hours at the scene, piecing together what had happened.
His boss, Guy Gaddum, said Kupa was a "nice guy" and family man. "He's in a serious condition. I've spoken to his father, who also works for me, and they're on their way to Tauranga."
By Carolyne Meng-Yee

Email

Carolyne, Kieran Campbell @KieranCampbell

Email

Kieran, Samantha Motion