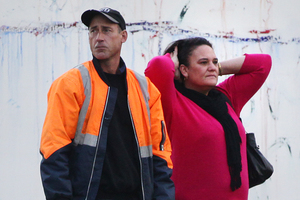 Robert Palmer and Bianca Crawley. Photo / Doug Sherring
A woman who wants to be a teacher is fighting to keep her dream alive after being charged with willfully behaving in an offensive manner in a public place.
Bianca Crawley, 38, and her partner, Robert Palmer, were charged with being caught in a sex act at about 9am in Felix St, Onehunga, in January, close to public schools. Pupils were on holiday at the time. A member of the public complained to police.
Palmer pleaded guilty and was ordered to come up for sentence if he reoffends within the next six months.
Crawley, though, wants a discharge without conviction.
The Herald on Sunday understands she is doing a course at the Auckland University of Technology.
She told police she hoped to become a teacher. She has previous convictions.
When approached yesterday to discuss the case, Crawley said she found it "offensive" to be asked questions.
"What's it to do with you? I want to keep to myself," she said.
"I find this quite offensive you coming here."
When asked about her teaching ambitions, she said: "No comment. There is no way I want this published anywhere."