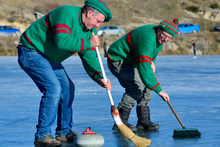 Frozen moustaches and numb fingers, hot toddies and green ginger wine, rumbling ice and many brightly coloured jerseys ... it could only have been a bonspiel.
After only a day's notice, about 130 curlers from the 16 clubs that make up the Idaburn Curling Council flocked to the Idaburn Dam in Central Otago to compete for the Wilson Cup.
The 12cm of ice was clear - so clear lake weed and air bubbles were still visible - and the air was crisp, making for the best conditions the curlers could have hoped for.
"It's beautiful, you wouldn't get better conditions than this," ice master Stewart McKnight said.
Many of the clubs have been in existence since the gold miners of the late 1800s began competing as something to do when the water froze and they could not mine gold.
Competitors at the dam yesterday said not much had changed since those days - some of them had even been playing for about half the time the sport had been played in New Zealand.
The Wilson Cup has not been contested since 2009 when it was won by the Poolburn club.