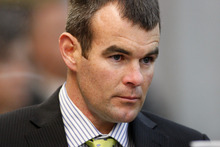 More than $1 million of public money was spent on the Scott Guy murder case before the trial even started.
And the total figure will soar once the Crown prosecution and defence legal teams submit their final invoices for the trial which entered a fifth week.
Figures released to the Herald yesterday show $108,542 was paid to the office of the Crown Solicitor of Palmerston North, Ben Vanderkolk, from last August until the trial started in June.
Mr Vanderkolk led the prosecution of Ewen Macdonald and was assisted by senior lawyer Paul Murray during the trial. They can each charge $198 an hour under the Crown rates.
Of the $108,542 bill by the Crown Law Office in Wellington so far, $3083 was paid in disbursements for travel costs once the case was transferred from Palmerston North to Wellington.
Taxpayer-funded legal aid payments to Macdonald's defence team, led by barrister Greg King, totalled $126,953 leading up to the trial.
Mr King enlisted the help of another senior barrister, Peter Coles, who can each charge $159 an hour under the legal aid rates - a fraction of their private charge rates.
While the fees for both Crown and defence lawyers will increase significantly once the invoices for the four-week trial are submitted, the legal bill is unlikely to exceed the $694,773 spent on the exhaustive police investigation.
THE BILL
$694,773 police investigation (does not include hours billed for 92 staff)
$126,953* Legal aid for defence
$108,542* Crown prosecution (includes $3083 disbursements)
$120,000 Cost of prison custody for Ewen Macdonald (approximately)
$1,050,268 Total
*Will increase as does not include invoices from 4-week trial
By Jared Savage @jaredsavageNZH

Email

Jared