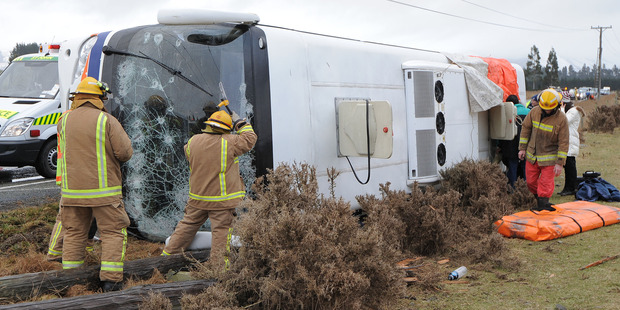 Firefighters check out the Worldway tour bus on its side after spinning on a patch of ice and sliding into a power pole on the Te Anau-Mossburn Highway. Photo / NZ Police
A 9-year-old boy remained in hospital last night after a tourist bus slid on black ice and rolled on the Te Anau-Mossburn Highway.
The Worldway bus was carrying 30 Chinese people, of whom 22 were injured and taken to Southland and Dunedin Hospitals.
The bus was travelling at 40km/h to 50km/h behind another bus near Mossburn when it slid and spun 180 degrees before coming off the road backwards, rolling on to its side and hitting a power pole.
Power was cut to the area because of the impact.
The New Zealand Transport Authority attributed a "light shower of rain" about 8am to the rapid deterioration of road conditions in the area.
Southland area manager Peter Robinson said the roads were inspected at 6am and 7am and no obvious ice issues were evident on the section where the crash happened.
The accident came after five days of frosts made road conditions treacherous in the region, with three other crashes in northern Southland about the same time as the bus crash.
Southern Lakes Helicopter pilot Mark Deaker, who attended the crash, said the roads were like a skating rink.