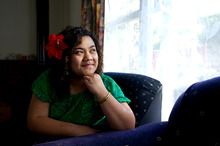 Student Parma Nokise admits she struggled at high school. But she wanted to make something of her life, so she began looking at ways to further her education.
The 18-year-old, a former student of Kelston Girls College, West Auckland, is now on track to complete a Certificate in Nursing from Unitec and starts a Diploma in English in two weeks.
"There were some subjects, like maths and science, which I didn't do well at at school. So I had to set myself up and do extra courses," she said.
"I'm aiming to be a nurse one day. I just want to help people.
"There aren't many Pacific Island nurses around so that was another reason for my choice," she said.
Miss Nokise said those students who needed support got it if they knew where to go. But for others, the stresses of student life could be overwhelming.
"I think there needs to be more support for students who struggle at English. I have had two friends and know of other people who have dropped out just because it's too hard.
"English is really hard for lots of students and I think that's one area that people need more support in."
She agreed students in foundation-level education needed more encouragement to further their studies.
"For me, my family encourage me. They tell me I can do it. But lots of people just finish their course and that's it. They don't think about a bachelor's degree or doctorate.
"But that's not me. I'm going to do my degree and when I'm finished I'll keep going. I'm still young and I think I can still go on to achieve other things."
By Vaimoana Tapaleao

Email

Vaimoana