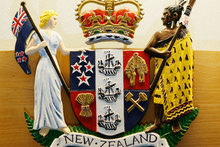 An Oamaru man who chased his victim with a shotgun, firing towards him then pointing it at him and saying "bang, you're dead", has been sentenced to 10 months' home detention.
Jonathan Karu Pritchard, 23, unemployed, was sentenced in Oamaru District Court for assault with a firearm and carrying a firearm with criminal intent on April 8.
The court was told that on the night of April 7, Pritchard, who was drunk, came out second best in a fight and ran home with a group in pursuit.
He got a single-barrel shotgun from his home and loaded it. When the victim arrived at the property, Pritchard fired one shot down the driveway then chased the victim.
He confronted the victim and pointed the gun at him, saying "Bang, you're dead".
A scuffle ensued and the gun was taken off Pritchard and thrown away.
When police arrived, Pritchard initially claimed he was the one who had been fired at. The shotgun blast hit the wall of a nearby home.
Prosecutor Anne-Marie McRae said the victim was not an innocent party but Pritchard brought a gun to a fist fight.
She accepted Pritchard had not intended to fire the gun at his victim, but said it was a matter of seconds between the victim moving out of the path of the blast and the gun being fired.
Defence counsel Michael de Buyzer said Pritchard had no history of violent offending and had shown remorse for his actions as soon as he could, by co-operating with police, pleading guilty promptly and writing a letter of apology to his victim.
He argued Pritchard had armed himself as a spontaneous reaction based on the context of the earlier events of the night.
Judge Joanna Maze accepted the victim had brought the fight to Pritchard's home but said that was no justification for his actions. "It was a gross overreaction," she said.
She said Pritchard had deliberately fired the gun close to his victim in order to frighten him and send a message.
"It was a terrifying ordeal," she said. "Undoubtedly, as you yourself would concede, he thought he was going to die."
By Oamaru Mail staff