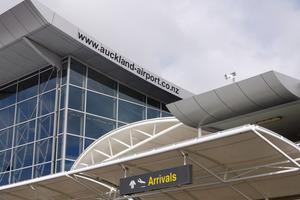 Police are investigating reports that hundreds of Tongans, mainly overstayers, may have been tricked into paying up to $350 each for nonexistent airline tickets and a visa to guarantee their return to New Zealand.
Waikato police spokesman Andrew McAlley said yesterday that an officer has been assigned to the case and would interview over the next few days those who claimed they had been targeted.
Last Friday, about 100 Tongans turned up at Auckland Airport claiming they had paid $250 to an immigration adviser for return airline tickets from Auckland to Tonga.
Mr McAlley said Waikato police had received 15 complaints and were also aware of at least two Aucklanders who had possibly been fooled.
An overstayer who spoke to the Herald on condition of anonymity said he paid an additional $100 to a man because he also needed a visa to return to New Zealand.
"We learned about this great deal from our brothers and sisters in church, who also believed they were getting a good deal," the man said.
"Now I feel really bad, because I have also spread the word about the cheap airfares and visas to many others in the community."
The overstayer did not go to Immigration New Zealand or the police for fear that he would be deported as he was in New Zealand unlawfully.
Police are still waiting to hear whether the fraud reached residents in Wellington and the South Island.
Immigration spokeswoman Angie Enoka said this fraud came just a month after the agency issued a warning about another fake visa scam targeting the Tongan community.
Fraudsters last month sold fake visas to Tongan overstayers for $290, Ms Enoka said.
"People should be very wary of immigration advice that does not come directly from Immigration New Zealand or a licensed immigration adviser," she said.
"We are continuing to review the allegations and available evidence on the flight scam, and where appropriate, refer to the police for investigation."
The Immigration Advisers Authority said it did not know if any licensed immigration advisers were involved in the flight scam.
"We understand that victims are afraid to speak up, and would like to assure them that we will not deport them if they decide to come forward," said an authority spokeswoman, Maheesha Kottegoda.
She said police had provided the authority with the names of two people involved in the case who claimed to be immigration advisers, but they were not on the register of licensed advisers.
"We have not been contacted directly by anyone in relation to this particular incident, although we are presently investigating two other issues regarding the Tongan community," Ms Kottegoda said.
Immigration's Pacific liaison officer, Dean Blakemore, said there was no guarantee that those who came forward would be allowed to stay in New Zealand.
Police want anyone with information on the the identity of the airline fraudsters or who bought tickets from them to call either on 07 858-6200 or anonymously on Crimestoppers 0800 555-111.