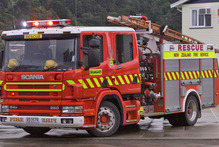 Volunteer firefighters in Kaitaia were woken from their sleep early on Sunday after a drunk woman got wedged behind a toilet.
The woman, thought to be in her late 20s, appeared to have slipped off the seat and wedged herself behind the cistern, said Kaitaia fire station officer Craig Rogers.
"Don't ask me how she done it," he said.
The woman's family had been home at the time but the door to the bathroom was locked.
Firefighters arrived about 2.20am and managed to get her out easily.
"All we did was give her a hand up. I don't know why her family couldn't do it," Mr Rogers said.
The family was grateful for the help, but the woman was "a bit pissed to be embarrassed".
- APNZ