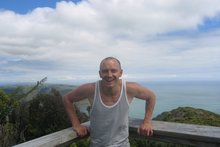 Family and friends of Dean Clark, the man killed in his Auckland home, gathered yesterday to say goodbye at a funeral that drew hundreds.
Crowds of people dressed in black arrived at the Dil's Funeral Services chapel on the North Shore to farewell their friend in the afternoon.
Many had to find parking in nearby streets as the carpark quickly filled and some mourners had to stand in the chapel foyer because of a lack of space.
Mr Clark's parents, Adrienne and Colin, requested that media not be present inside the chapel.
Mr Clark, 36, was found dead in his Balmoral home on Tuesday last week.
A 38-year-old man, believed to be his flatmate and a mental patient, has been charged with his murder.
The incident has put the mental health system in the spotlight with some, including Mr Clark's mother, calling for change.
Mrs Clark told the Herald on Sunday the system had failed her son.
"The laws need to change and become more stringent," she said.
Steve Clerk, chairman of the Auckland branch of Supporting Families in Mental Illness, said the incident was a tragedy that highlighted the fact that more support was needed for those with mental illness.
"Supporting Families in Mental Illness has long held concerns over the lack of suitable and supported accommodation for people living in the community with a major mental illness," Mr Clerk said.
On an online tribute page, friend Brett described Mr Clark as a strong but gentle and humble man who was a great friend.
"Dean, you were my brother and my dearest friend. You were always there for me when it counted and I am so sorry I couldn't be there for you at the end. The world has been robbed of a wonderful person," he wrote.
By Vaimoana Tapaleao

Email

Vaimoana