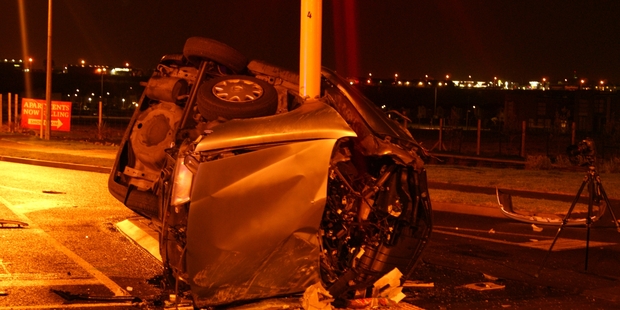 Police say it is a miracle that the driver of a stolen car, found wrapped around a traffic light, was able to walk away from the scene.
The metallic green Nissan Sunny was found by a security guard at the intersection of College Rd and Stonefields Ave in Mt Wellington, Auckland, around 3.30am this morning.
The Nissan was stolen from Otahuhu around 3am yesterday, followed by the theft of a red Subaru Impreza from Newmarket at 6pm, police said.
Police believe the two cars had been raced on streets in Stonefield before the Nissan had wrapped itself around the pole.
"We arrived shortly after receiving the call expecting to see bodies, much to our amazement there was no one with the vehicles,'' said Mt Wellington police senior sergeant Hirone Waretini.
A cadaver dog was brought in to track the offenders but had "no joy'', Waretini said.
Police said they received a phone call half an hour after the crash from someone who said they had seen three men get into a taxi at the BP on Lunn Ave in Mt Wellington. Police are urging anyone who visited the BP between 2am and 4.30am to contact them.
"They are probably car crime offenders who have engaged in some stupidity that nearly cost them their lives.
"We'd much rather catch them and lock them up than tell their parents that they've passed away,'' Mr Waretini said.
Mr Waretini said a forensic examination of the scene had been carried out and police had "plenty to go on''.
"I'd like to say someone walked away from this but they probably limped.''
Mr Waretini said police were still "actively seeking'' the men, and anyone with any information should call the Serious Crash Unit on 09 302 6400 or Crimestoppers on 800 555 111.
- APNZ