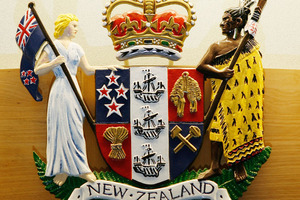 Photo / File
A pregnant Hastings mother has admitted to a "particularly mean" theft after stealing donations destined for a children's charity.
Court summaries showed Nikaiah Louise Williams, 26, walked into Canton Takeaways in Waipukurau on April 15 and stole a Kidney Kids New Zealand donation box from the counter and fled.
Minutes before the theft, Williams' 12-year-old son entered the closed but unlocked shop on Ruataniwha St, looked about and then exited.
About 3pm, the two re-entered the takeaway, where the mother grabbed the box off the counter, put it in her bag and left. It was not known how much cash it contained.
She later told police she needed the cash as she had only $4 on her at the time.
Yesterday, in the Hastings District Court, she also pleaded guilty to another count of theft after stealing $60 of petrol from BP petrol station on Karamu Rd 10 days after the first incident.
Defence counsel William Hawkins said his client had since sorted her housing situation and intended to move to Waipukurau to "escape negative criminal influences in the [Hastings] district".
"Her primary concern is the wellbeing of her 2-year-old daughter," Mr Hawkins said.
The court heard Williams still had 49 hours of community work to complete on an earlier unrelated sentence.
Mr Hawkins said the offending had pre-dated a "warning shot across the bow" from the courts.
"That warning shot went into open water Mr Hawkins," Judge Geoff Rea said. "This is a particularly mean type of theft from disadvantaged people."
He warned she would face a custodial sentence if she did not address her community work.
"If this hasn't happened by July 16, then she can confidently know, pregnant or not, she'll spend time in prison.
"This is your last shot Ms Williams.
"You need to co-operate fully - if you do nothing you'll be going to jail."
for more articles from this region, go to HAWKES BAY TODAY