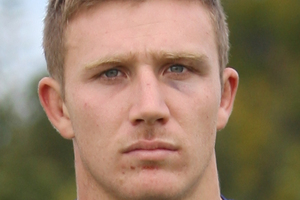 A member of the New Zealand under-20 rugby squad joked about a rapist in a Facebook post as a teammate was being investigated for rape by South African police.
Baby Blacks hooker Nathan Harris yesterday outed himself as the player accused of raping a 22-year-old woman at a Cape Town hotel on the night of his side's junior world championship defeat by hosts South Africa last Friday.
The 20-year-old from Te Puke said he had gone public to save his teammates from suspicion.
He apologised for breaking team rules by allowing a woman into his room but said "very strongly" that he was innocent of the rape allegation.
Harris asked for privacy during a "very stressful and painful time".
"I am proud to have had this amazing opportunity to represent my country playing rugby and I know that I let the team down and I let my family down," he said.
"For that I am truly sorry and I want to apologise to my teammates, team management and to all the parents and friends who supported our team, but especially to my family for the distress this has caused them all.
"I have learned a lot and now I am hoping for a good outcome so I can get on with my life."
New Zealand Rugby Union chief executive Steve Tew would not comment on yesterday's developments but said earlier this week the Baby Blacks squad had been reminded of team protocols only hours before the alleged rape.
Tew said players had been drinking on Friday night but he did not believe they were grossly intoxicated.
However squad members made comments on social networking sites about "drowning sorrows" after their loss to South Africa.
And yesterday one joked on Facebook that "they can't find the rapist cause he is in Australia", but the comment was later removed.
All Black mental skills coach Gilbert Enoka said the pressure increased "10-fold" on players picked for New Zealand.
"There are some people that can cope, others not so well. There's a bunch of pressure from a bunch of environments ... there's no doubt that it's a pressure cooker," Mr Enoka said.
"Most teams have rules and codes around it but sometimes people transgress."
UNUSUAL PATH TO UNDER 20s
The ascent of Nathan Harris to the Baby Blacks followed an unusual path.
He was not the best player in the Tauranga Boys' College first XV - in fact, he had to change positions to accommodate more illustrious teammates.
Nor did he leave Bay of Plenty coaches eagerly awaiting his progression to the provincial team as he toiled away for Te Puke Sports' premier side in the Baywide club competition.
After spending his entire rugby life on the back of the scrum, Harris was forced into the hooker role after Sam Cane - who last weekend scored two tries on his run-on debut for the All Blacks - arrived at Tauranga Boys'.
Harris then made the Bay of Plenty and Chiefs' under-18 teams in his first season hooking the scrum. He also played for the Te Puke premiers.
His exploits were enough to get him into a national under-20 camp last November and, determined to win a spot in the world championship team, he spent the summer treating training like a fulltime job.
That dedication eventually paid off, with coach Rob Penney selecting the 1.82m, 106kg Harrison for the Baby Blacks' world title tilt.
- APNZ