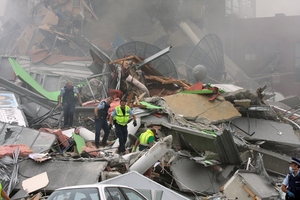 An important witness who had previously refused to give evidence at the royal commission into the Christchurch quakes has agreed to appear via video link from Australia.
Gerald Shirtcliff was the manager of Williams Construction in 1986 and was responsible for ensuring the Canterbury Television building was built to comply with drawings and calculations.
This afternoon Mr Shirtcliff issued a statement through Tucker and Cowen Solicitors in Brisbane saying he would cooperate with the commission.
It was revealed this week that Mr Shirtcliff was a convicted fraudster once described by a judge as "grossly dishonest".
"I have been corresponding with (the commission) since 17 April 2012," Mr Shirtcliff said.
"I have today provided a statement to the commission regarding the collapse of the CTV building, following the delivery on 26 June 2012 of information that I had previously requested from the commission.
"I intend to fully cooperate with the commission.
"The commission has today been advised that I will be making myself available to give evidence before the commission by way of video link.
"I ask that the media refrain from making any judgements about me until I have had the opportunity to give evidence before the commission and the commission has delivered its report.
"I do not propose to comment further at this point."
- APNZ