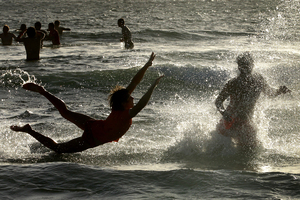 Dozens of teenagers plunged into chilly waters at Mt Maunganui yesterday morning as part of a tribute to schoolmate Jed Roberts, who lost a 19-month battle with leukaemia last year.
More than 70 orange-clad teens and supporters sprinted across Omanu Beach and dived into 13C surf.
Before they hit the icy waves with a chorus of screams and shrieks, the students observed a moment's silence for the popular 17-year-old Mt Maunganui College student, and stood back as the college 1st XV broke into an emotional haka on the beach.
The Polar Bear Plunge, first staged last year, is intended to become an annual event to raise money for the Leukaemia and Blood Foundation in Jed's name.
His younger sister, Lia Roberts, 16, who took part, believed the midwinter plunge was something her brother would have braved.
"I'm glad everyone's been so supportive and it's just really cool they're using it as a memorial to Jed. I hope it continues."
Her mother, Deb Roberts, who watched with husband Dean, fought back tears when asked for her reaction.
"It's quite emotional for me, very emotional ... I laugh when I think, God, he'd be out there decked in orange and having a hoot with everyone."
Co-organiser Jackson Edwards, who emerged from the waves shivering, said his college had been devastated by the loss of Jed, one of his best friends since primary school.
"It was a big loss for us. He was a great bloke and was always getting involved in everything."