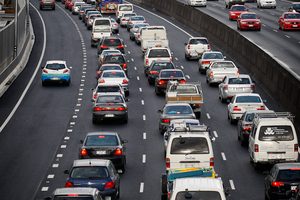 Auckland's Northern Gateway toll road has chalked up its first successful court prosecution, although the car owner convicted yesterday of non-payment intends to challenge it.
Retired lawyer Hans Grueber, 70, was fined $160 after a defended hearing in North Shore District Court on four charges of evading tolls, and ordered to contribute $452 to the Transport Agency's prosecution costs, as well as $130.89 in court costs.
Justices of the Peace Ken Graham and Selwyn Haworth made the award after prosecuting lawyer Karen Chang sought $600 as a fraction of what she said the case had cost the agency.
Dr Grueber said the court case was his only means of challenging the tolling system, and his stand was "a public service".
He said he had always seen yesterday's hearing as a precursor for an appeal to the High Court.
But the Transport Agency claimed victory, saying it had survived the first legal challenge to tolls on the 7km road between Orewa and Puhoi since it opened early in 2009.
It is preparing to take five more motorists to court.
Dr Grueber, who lives inland from Waiwera, told the District Court he did not deny being the registered owner of a car which travelled 22 times on the road without any tolls being paid for it.
But he considered the order-in-council which set up the toll system in 2005 to be illegal as the road was an extension of the Northern Motorway and not a new facility as required by law before tolls could be charged.
Neither was there a high level of support for tolls from communities likely to be affected by them, as also required by the Land Transport Management Act, he told the court.
He said 62 per cent of public submissions invited by the agency's predecessor, Transit NZ, opposed the toll plan and the organisation later conducted a survey of a community which he said was unaffected by the scheme - on the Whangaparaoa Peninsula.
Residents of that area were "the only people in New Zealand who support tolls", as they saw them as a way of gaining a separate roading project, the proposed Penlink scheme.
"The whole process was incorrect," Dr Grueber said.
Ms Chang said the facts of the case against Dr Grueber were not in dispute, and the agency had a right under the legislation to charge tolls.