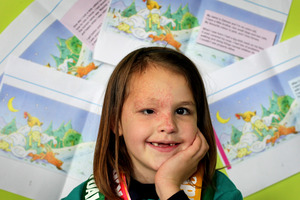 "My name is Zahnee and I'm 6 years old. I have a little brother, two small dogs and two cats, my favourite colour is pink, and I love horses."
So starts a storybook by a little girl, concluding a journey which took her from Tauranga to New York for a miracle operation.
Throughout her five-year battle to cope with a debilitating birthmark that grew from behind her right eye shortly after birth, Zahnee Campbell-Riley continually surprised her family with her doggedness and bravery.
Now she's done it again, says mum Jade Riley, who has helped Zahnee achieve her dream to write a children's book.
"She's not your average 6-year-old by any means," Ms Riley said with a laugh yesterday. "She doesn't play with toys and she's almost too old for her time ... she'd rather be doing something like writing a story.
"When she said, 'Mum, I think I could write a book,' I honestly thought it was do-able and wanted to support her," Ms Riley said.
"She's always been determined and I knew she'd be capable of it."
In the still-untitled book, to be illustrated by Rotorua artist Sue Farrell and produced by publishers Sunshine Books, Zahnee recounts how she won a slew of ribbons while riding her pony, Matchie.
Ms Riley, who is keen to see the book go to schools throughout the country, believed its message was clear.
"It's really about the fact that children like her who have issues are still capable of achieving their dreams ... and I think she gets the point across well."
Zahnee first mentioned the idea shortly before having surgery last September to treat her facial vascular hemangioma tumour, an external and internal birthmark thought to be the only one of its kind in New Zealand.
The condition had caused her eyesight to deteriorate, affected her co-ordination and left her with headaches and painful pressure on her shoulders from repeatedly having to balance her head on an angle.
Her family, who were unable to qualify for special Government funding, set about raising $60,000 for the operation - a goal realised with the help of many generous Herald readers.
The charity they set up on the way, Zahnee's Cause, has now grown into a charity that aims to donate $5000 to families in similar situations each anniversary of Zahnee's operation.
Ms Riley expects all proceeds from the book's sale will also go to the cause.
"It's great, as she can now support the community. We look forward to supporting other children in special circumstances with the monies we receive from the sales of the book."
Sunshine Books had allowed Zahnee to retain property rights over of the book, allowing her to reproduce it in the future, and Ms Riley said a company that could assist with printing was still being sought.
Those who can help are asked to contact Ms Riley via the Facebook page Zahnee's Cause, where details of the book's release date will be publicised when known.