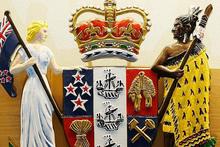 A man who took offence at another man's fancy dress costume while walking down the street, would not listen to his protestations that he wasn't in a gang and attacked him.
Jahmal Woon Kereopa, 20, pleaded guilty in the Wanganui District Court to common assault and assault with intent to injure after carrying out two separate acts of violence.
On March 11, 2012, Kereopa was in Carlton Ave at the same time the victim and his partner were walking home after a fancy dress party.
As they walked past in the opposite direction, Kereopa noticed the male victim's costume had red on it.
Kereopa walked past the victim, stopping in front of him, saying "Are you serious?".
The victim tried to explain he was in fancy dress and was not involved in a gang, but Kereopa punched him, the blow glancing off his jaw.
The victim turned to see his partner punched in the head by a female from the group. As he turned back toward Kereopa, he was punched in the left eye and nose, knocking him to the ground.
Police arrived to see Kereopa standing over the victim, kicking him repeatedly.
After Kereopa had been arrested, the same female punched the male victim in the face and nose a number of times. He suffered a chipped tooth, a cut to bridge of his nose and a black eye.
The female assailant is being processed through the youth court.
In the second incident, on May 19, 2012, Kereopa and his female victim were at an address in Wanganui when they started to argue.
Kereopa became angry and aggressive, and punched the victim twice in the side of the head, striking her in the right eye and causing bruising around the socket.
Kereopa's counsel, Fenella Devlin, said he had no previous criminal convictions and acknowledged he had anger management and alcohol issues, for which he had referred himself to anger management and living without violence courses.
Judge Gregory Ross called the charges a "significant fall from grace" for someone who had never appeared in court before. Neither assault should have happened, and the first came after having consumed a box of (8 per cent alcohol) Cody's RTD drinks, as told to probation by Kereopa himself.
The judge said he was not surprised Kereopa couldn't remember what happened, considering how much he had been drinking. He said his worry was that Kereopa had deep anger issues that were unleashed by alcohol.
The second offence was a "woeful state of affairs" and, as with his first offence, was entirely uncalled for, he said.
Judge Ross imposed a sentence of 200 hours' community work, with nine months' supervision and ordered Kereopa to pay emotional harm reparation of $750 to the victim of the street attack.