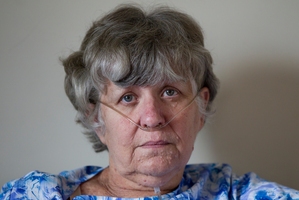 Immigration New Zealand says it will consider "humanitarian factors" should a dying grandmother from South Africa decide to apply to remain in New Zealand after her visitor visa expires at the end of August.
Elizabeth Liebenberg, 61, has been told she has to leave the country after she failed to get a residence visa under the sponsorship of her daughter for failing to meet health requirements.
Mrs Liebenberg has several medical conditions including restrictive lung disease, moderate aortic stenosis and hypertension, and requires oxygen to help her breathe.
Her doctor said her life expectancy "is measured in months rather than years" and had written to Immigration saying Mrs Liebenberg could die if she had to fly back to South Africa.
"Mrs Liebenberg's visa expires on August 31 and she currently has an appeal to the Immigration and Protection Tribunal," the agency's spokeswoman Ailsa Mannell said yesterday. Ms Mannell said she could apply for a new visa before her current one expires if she wishes to remain with her daughters in New Zealand.
"Any application will be assessed on its merits including the humanitarian factors we acknowledge are present in her current situation."
Mrs Liebenberg's failed application for residence has resulted in her not being able to qualify for public health funding, and she is now facing a hospital bill of more than $100,000 which she is unable to pay.