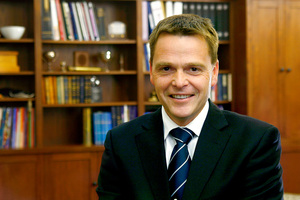 The head of a Palmerston North college is set to become Auckland Grammar's new headmaster.
Tim O'Connor will take over from John Morris, who has held the position since 1993.
Mr O'Connor, 43, has been rector at Palmerston North Boys' High School for the past 10 years. He becomes Grammar's 11th headmaster in October, the school confirmed yesterday.
"Mr O'Connor is an impressive and extremely well-regarded principal in the New Zealand secondary school sector," Auckland Grammar board of trustees chairman Jeff Blackburn said.
Mr O'Connor said Auckland Grammar was a flagship school for boys' education in New Zealand and he was excited about the move.
"My observations from afar suggests it has an esprit de corps amongst the school and old boy population that needs to be cherished and applauded as it emphasises the value and respect given to quality education.
"This will be a significant change for our family. We have strong family connections in the Manawatu."
Mr O'Connor represented Manawatu in hockey in the late 1980s before becoming an international hockey umpire.
In 2007, he was awarded both a Sir Peter Blake Trust Emerging Leader Award and a Woolf Fisher Fellowship.