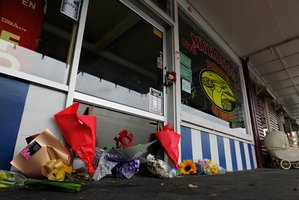 An investigation into the murder of slain pizza shop owner Jordan Voudouris has taken a "disturbing twist" after the vandalism of tributes left outside his Paeroa shop.
Voudouris, 55, was found dead in pool of blood in a driveway behind his business Mykono's Pizzas early on Monday last week.
A homicide investigation was launched after a post-mortem confirmed the death was suspicious.
Police said flowers, balloons, cards and other memorial items left outside Voudouris' shop to mark what would have been his birthday on Saturday were vandalised.
Detective Senior Sergeant Michael Whitehead said police were now investigating the vandalism to find out whether it was linked to the murder.
"Police are keeping an open mind and are following a number of lines of inquiry in the search for Mr Voudouris' killer. We are following up as to who may have caused this damage and whether or not there may be any connection to his death.
"This development is another part of the puzzle that may or may not be directly connected to Jordan's death."
Mr Voudouris, who was known as a much-loved business owner, was farewelled by his family at a private funeral in Auckland today.
Mr Whitehead said police had not identified any confirmed motive for his homicide, though it was "highly likely" someone in the Paeroa knew about the death.
"Our thoughts are with Jordan's family at this very difficult and sad time. We remain steadfastly committed to catching whoever is responsible for his death."
To give information call Paeroa police station on 07 862 8744.
- HERALD ONLINE