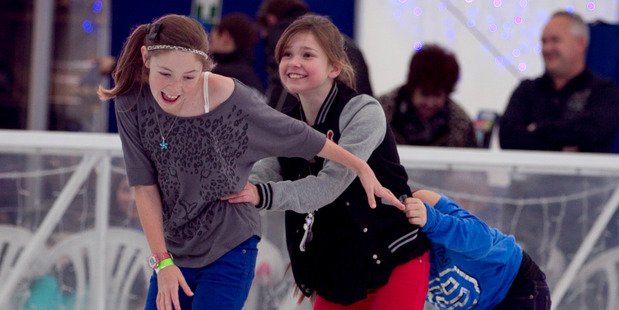 Winter does have its perks - one of them being an ice rink in Aotea Square.
Since opening last week, the rink has been popular with people of all ages and walks of life, including 12-year-old friends Caley Field, Veronica Devlin and Georgia McGinty (pictured).
Some of the skaters looked like seasoned pros, twirling and leaping on the ice, while others were a little less confident and skated in circles with metal frames which were on hand for anyone who needed a bit of extra help.
Family-owned ice-rink company Paradice Ice Skating is behind the ambitious project, which took 500 hours to construct.
The rink's cover is lit with 22,000 fairy lights which helps to complete the winter wonderland theme.
The ice, which is kept at a constant -7C, is maintained with an electric ice resurfacer. It's open for six weeks.
Adults pay $20, children $15 and a family of four $55. This includes skate hire.
- Staff reporter