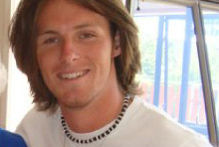 A young Kiwi surfie has died in a scooter crash on Bali, prompting concern about how many New Zealanders are killed and injured on the two-wheelers in unregulated foreign countries.
Friends and family yesterday paid tribute to Andrew James Horsburgh, known as AJ, who they said was a free spirit who lived to travel the world looking for adventure.
At least three people are killed and 150 injured every day on the Indonesian island's traffic-choked roads.
Horsburgh's distraught parents Lesley and Tom, who are from Auckland, have flown to Bali to bring home his body.
His aunt, Anne Wilson, said the extended family were still not sure what had happened. "It's still very sketchy ... they're still finding out themselves."
A family friend said: "He went over the handlebars. He died pretty quickly, he broke his neck."
Horsburgh is said to have grown up in Auckland and attended Penrose High School, but spent the last few summers working in Whangamata while living in the family bach.
Cafe Rossini owner Sonia Matthews employed him last summer and remembered him as a "real character".
"He was a bit of free spirit. He loved surfing and travelling, just cruising the world."
She said Horsburgh worked summers in the town and used the savings to travel. He told her he'd previously worked for Ultimate Party Pub Crawl in Amsterdam. The company organises group tours of nightlife hotspots. Matt Pickett worked alongside Horsburgh and remembered his love of travel. "He'd pretty much save and go travelling, that's what he did," Pickett said. "He was a good dude. It's horrible what's happened."
A Ministry of Foreign Affairs and Trade spokeswoman said embassy staff from Jakarta were helping Horsburgh's family. His funeral will be held in Auckland on Friday.
Promising young sailor dies while on shore leave
The naval officer who died in a scooter crash in Rarotonga was a cheeky orphan brought up by his grandmother, family members say.
Able Seaman Combat Specialist William Paratini Delamere, 22, of Whitianga, died after crashing his rented scooter into a traffic island beside where his ship, HMNZS Otago, was docked.
Delamere's shipmates were the first on the scene, giving him first aid and accompanying him to hospital, where he was pronounced dead at 1.30am local time.
Despite Rarotonga's idyllic image, dozens of New Zealanders are injured in scooter accidents there each year. Cook Islands police commissioner Maara Tetava said they were still investigating, but suspected speed and alcohol were involved.
Delamere's aunt, Rangi Delamere, said he would be greatly missed by his grandmothers and two younger sisters. He was a keen diver and would often bring home a seafood dinner for the family, she said.
"You couldn't ask for anything better."
Commander David McEwan said Delamere had a bright future ahead of him in the navy.
"Intelligent and of cheeky nature and quick wit, William embodied the very spirit of a young sailor enjoying his life at sea, performing a role that offered him comradeship, exciting challenges and many rewarding moments."
Tributes flowed on social networking sites from family, friends and shipmates.
Alex Colclough said: "RIP bro, you were always so full of life and will be missed by many."
- Chloe Johnson
By Cherie Howie

Email

Cherie