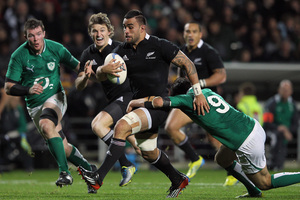 It all went wrong in the Tron for the Irish but at least their fans kept their good humour this week.
After the All Blacks completed a 60-0 blackwash, many of the 25,800-strong crowd partied late into the night in the city's bars and clubs.
It was a welcome tonic after last week's test in Christchurch was marred by reports of drunken Irish fans. Police made five arrests and more than a dozen people were evicted from AMI Stadium.
In Hamilton, Shenanigans Irish Pub manager Jason Howarts said things were getting "vibrant" last night but that everyone was enjoying themselves.
"Everyone's in good spirits and all having a bit of a lark."
The last time the Irish rugby team was in town in 2006, the Blarney Army drank the town dry.
But this time publicans were prepared for the onslaught.
Biddy Mulligan manager Bridget Otto said green-shirted patrons had been queueing outside her pub from opening time.
"They were waiting outside the door to get in at 10 o'clock this morning and they've just been coming and going most of the day."
The game was played on big screens for those fans who couldn't get a ticket and a band playing traditional Irish tunes kept the punters happy.
"We're planning on being rowdy," said Otto. "Everyone's just here to have a good time at the end of the day. It's a great atmosphere."
And on a cold night in Hamilton, The GC star Rosanna Arkle showed off her trim, boxing physique by stripping down to a leopard-print bikini.
Watching the game at home in Tokoroa was Waikato-born Isaac Boss, a former Chiefs star who more recently played for the Irish national team.
Boss said although he would have loved to see the match in Hamilton, he was watching it at home with family.
Unfortunately for Boss, he was backing the Irish to win.
- APNZ