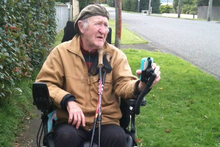 A once-keen runner will do 10km Wellington event in a wheelchair to raise money for fellow MND sufferers.
Richard Clark would like nothing more than to lace up his runners and hit the street in tomorrow's 10km run in Wellington.
But motor neurone disease has stripped that ability from him.
The once-keen runner is now using crutches and the next step is life in a wheelchair as his body loses basic function.
But that is not enough to sideline Clark, who is is "competing" in the 10km walking event in a wheelchair, being pushed by Motor Neurone Disease Association field worker Moira Young.
They will be accompanied by others who are walking or running in the 10km and half-marathon events making up the Blue Cornflower team.
The blue cornflower is the international flower of hope for fighting MND.
For 69-year-old Clark it is not quite running, but being part of a race in New Zealand is the next best thing.
"This will be my first competitive event since returning home after 43 years abroad.
It is going to be very, very emotional to say the least," he said.
Clark was inspired to take part in the event to raise money for the MND Association in Wellington and because he wanted to continue some form of competitive activity.
MND is the name given to a group of diseases in which the nerve cells or neurons controlling the muscles that enable us to move, speak, breathe and swallow degenerate and die.
Clark has chosen a running event because running was his passion before his MND took hold of his life.
"Richard's participation will be inspirational to others," said 49-year-old field worker Young.
"As well as achieving a personal goal he will raise public awareness of MND."
Young said the effects of MND could vary enormously from person to person, from the presenting symptoms, the rate and pattern of the disease progression to the length of survival time after diagnosis.
"The progressive paralysis caused by MND can make life challenging on many levels, from physical, emotional, cognitively and psychosocially.
"One client described it as a 'ratchet disease'."
About 300 people in New Zealand are living with MND. Compared with other terminal diseases, this number is relatively small.
But the team of health professionals and service providers with specialist knowledge needed to care for one person with MND is large.
Clark's effort to raise awareness is significant to the cause. He was a keen runner since age 13, competing in cross-country up to nationals level in New Zealand before he moved to Australia and ran in events such as the Sydney to Surf.
"Then I moved to America for 20 years, where I was totally inspired, running in New York with the NY Road Runners," he said.
"Moving to Venice Beach I ran many 10km [races], the LA Marathon in 1995, trained for the California Aids Ride and experienced a near-fatal bike crash in 1996.
"I continued hiking and then in 2003, after a painful divorce, I explored the American West. For two years I filmed and photographed, running parts of Death Valley, across Monument Valley and back."
Clark returned to New Zealand in 2006.
"I have been trying to edit my footage into a documentary but have hit my physical limits. I continued running and hiking, completed the Tongariro Crossing in January 2011, and then it all began to fall to bits."
In that context just being part of tomorrow's race is a huge achievement. He credits his partner, Emily Friedlander, an ESOL teacher and photographer, who is part of his team, "as crucial to my life today".
Clark has unfinished business after some ribbing he copped as a youngster left a lasting impression.
"As a 21-year-old I ran [4.8km] track and 10km road races. My coach in Napier called me a quitter as I left to explore overseas.
"That has been an itch I have sort of scratched. I have certainly overcompensated for those jibes."
He also hopes to be part of the New Zealand movement supporting those who are diagnosed with MND.