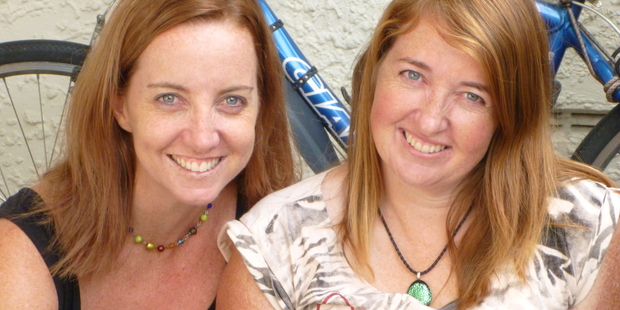 Two sisters are sweating it out in 40C heat and pedalling up torturous hills in a bid to raise $4000 for malnourished children in Vietnam.
Te Pahu mother of two Kim McVinnie, 44, signed up to cycle 700km from the north to south of Vietnam after her Auckland-based sister Sally Hewlett, 38, who works at ChildFund New Zealand, twisted her arm. She hadn't been on a bike for 25 years.
The sisters are on the final leg of a 12-day cycling challenge from Hanoi to Ho Chi Minh City, and plan to reach their destination by tomorrow. They have been averaging 80km a day on the bikes, with a day's rest in between and taking some public transport to help them reach their destination.
Ms Hewlett took on the challenge without any cycling practice and, rather than relaying on fitness, was depending on memories of the children she had met in Vietnam as ChildFund's Asia programmes co-ordinator as motivation to finish the ambitious trip.
Mrs McVinnie, who left her two children and husband at home so she could keep an eye on her sister, had never been to Vietnam so had been taking her bike for some test runs.
On her first 2km trip six weeks ago, she thought she was going to die but rode through it.
"I've never done anything like this before, so it's definitely taking me out of my comfort zone," Mrs McVinnie said.
During their adventure, the sisters have cycled up hills, travelled through small villages and towns full of friendly children, competed with the country's thousands of scooters and even biked to a chicken farm.
They had a rocky start on the first day, when they travelled 20km and said there "were a few near-death experiences" as they learned to avoid the cracks in the road. But on their rest day, when Mrs McVinnie said they got to rest their "weary bones and bottoms", they started missing their bikes.
Mrs McVinnie's husband Kelvin said they were having a great time and the biggest challenge was the stifling heat, which they weren't used to. But, "the beer is cheap and it's cold".
The money raised from the bike ride will go towards ChildFund's Vietnam Appeal, to reduce malnutrition in children there with a fortified nutrient mix called "sprinkles". The sisters have also been sampling this to help them with the challenge.
NZ celebrity parents including Rawdon Christie, Jeremy Corbett and Hillary Barry have supported the appeal by sharing their secrets of how to get healthy food into their unwilling children. A $56 donation provides a child with an adequate amount of sprinkles for a year.