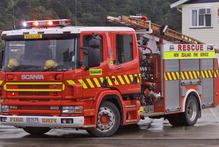 Cindy and Jerry Whare have only the clothes on their backs, photos and some family jewellery left after fire gutted their home just hours after firefighters had put out a smaller fire in the chimney.
Most of their possessions were destroyed when their farmhouse in Creans Rd, Waihi, was gutted by fire early yesterday.
The couple, who have been living on the Waihi dairy farm where Jerry has worked for four years, had just come back from a holiday in Northland.
"It was cold," said Mr Whare. "Of course, we lit the fire."
But about 8.30pm their smoke alarms went off, followed by the security alarms. The surround of the chimney of the stand-alone fire was smoking.
The Waihi Volunteer Fire Brigade rushed to the scene and doused the fire.
They used a thermal imaging camera to see if there was any more hot spots.
Fire chief Moe Stevens said they were satisfied they could not see any sign of heat and left the farm house.
But Mr and Mrs Whare decided they would be cautious and collected all precious items, photos, jewellery and family precious pieces and took them to a nearby neighbour.
"We could still see smoke coming out of the roof," said Mr Whare, "So Cindy went next door and I was going to sleep in the sleepout.
"The inside of the house was badly water damaged anyway; it would have been impossible to sleep in it."
The fire re-ignited in the ceiling areas and firefighters were called back at 3.30am to find the property well alight.
Firefighters spent several hours putting out the fire.