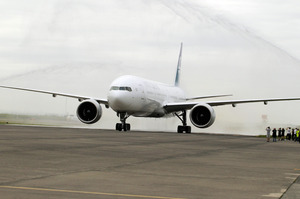 Pilots gave a "textbook" emergency response when a New Zealand colleague became unwell during an Auckland-bound Los Angeles flight, aviation experts say.
An Air New Zealand Boeing 777-300 aircraft with 316 passengers on board had to turn back to LAX two hours into the flight because of a "medical emergency".
Passengers have reportedly said they were told the pilot had suffered a suspected heart attack during the flight on Saturday.
But Air New Zealand said today that the cause of the illness remains unknown.
A spokeswoman said the pilot was not at the controls when he became unwell but was eating his in-flight meal.
And New Zealand Air Line Pilots' Association (NZALPA) President Glen Kenny said "pilot incapacitation" was "very infrequent" but the most common cause was gastro-related conditions.
The New Zealand-based pilot, who has not been named, is still in hospital in Los Angeles under observation but was "very much alive and well", Air New Zealand said.
A doctor who was a passenger on the flight from Los Angeles to Auckland treated the pilot as the plane turned back to LA under the command of the two other pilots in the three-strong crew.
"The flight was being operated by three pilots so the flight deck remained fully staffed at all times," the Air New Zealand spokeswoman said.
"I understand that the passengers were told that there was a medical emergency and that the aircraft was returning to LA."
Mr Kenny, who confirmed the pilot was one of his members, praised the other pilots for their response.
"It's not as drastic as it sounds," he said.
"In this case, we still had two pilots to man the pilot stations so there was no risk at all.
"The crew members carried out their duties as per their training and returned the aircraft safely back to Los Angeles. A textbook response, done by the numbers."
The Civil Aviation Authority of New Zealand (CAA) will now be notified.
CAA spokeswoman Emma Peel said the CAA would likely log it as an incident, which she described as being a lower level event.
However, the pilot would now have to prove his fitness and have his medical history reassessed.
Commercial pilots qualified to carry passengers undergo medical examinations every year, the CAA says.
They are also subjected to various cardiac assessments as well as eye, lung capacity, and hearing tests.
But if a pilot's health changes, like a diabetes diagnosis or broken arm, they must notify CAA's medical unit.
The "rigorous" testing meant incidents like the one at the weekend were extremely rare, Ms Peel said.
"Even if a pilot gets a bad dose of the flu and wants to take a particular medication, they have to check it is acceptable to take whilst flying.
"Because the medical certification is so strict for aviation it's quite rare you gets something traumatic happening to a pilot that is medical and comes out of the blue like that."
She said each airline was responsible for the communication with its passengers, but it would be "heavily proceduralised" and be part of the cockpit's documentation.
James Craig was onboard the flight, and after landing in Auckland this morning told APNZ the flight was two hours in when an announcement came over the speaker system.
"We'd just had a meal, and everything was going as per normal and then there was an announcement that there'd been a medical mishap, or emergency, and we had to turn back."
The announcement just said there had been a medical emergency, but did not say it was the pilot, or what had happened.
He had just assumed it was a passenger.
"It was very well handled and there was no panic or anything amongst the passengers," he said.
All passengers were put up in a hotel until the next flight took off 24 hours later, arriving early today.
- APNZ