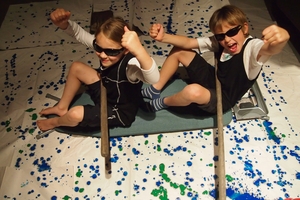 Getting to the London Olympics was all in a night's work for a lucky Auckland family.
Sylvie McDonald, 6, and her brother Duncan, 8, spent an evening getting creative for the Herald Olympic Games Family Trip competition. With the help of their parents, Bill McDonald and Sarah Stokes, the pair used old paper and paint to create the winning image.
Ms Stokes said the family, who live in Parnell, had been on cloud nine since hearing that their entry had won.
"It all started because I've been trying to find things for the kids so they don't watch TV at night.
"Duncan is soccer mad, so that is something he is really looking forward to. Sylvie is quite interested in seeing the rowing, so we'll go to that as well."
She said both children, who attend Parnell District School, were excited and could not wait to share their good news.
"Duncan made a big announcement and Sylvie sent out some very poorly spelled texts to her friends."
The family go to London next month. The prize package - courtesy of McDonald's - includes return flights, tickets to several events and passes to some of the sporting venues.