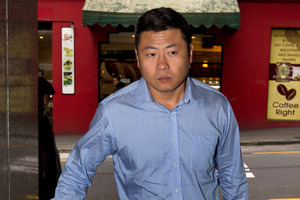 Hui Leo Gao arrives at the Auckland District Court ahead of his guilty plea to seven charges. Photo / NZ Herald
The man dubbed the "accidental millionaire'' has pleaded guilty to seven charges of stealing from a bank before he fled overseas.
Hui "Leo'' Gao pleaded guilty to seven charges of theft totalling almost $6.8 million when he appeared at the Auckland District Court this morning.
The charges relate to offending between April 24 and May 5, 2009 in Rotorua and Auckland.
Gao originally faced 16 charges. The reasons for the change are supressed.
He has been remanded on electronic bail until his sentencing in Rotorua in August.
Judge Roy Wade said bail did not mean Gao would necessarily avoid prison.
According to the police, Gao applied to Westpac for a $100,000 overdraft in 2009 for his struggling BP petrol station in Rotorua.
The overdraft was approved.
But the bank accidentally transferred a $10m overdraft in to his account.
A day later Gao discovered the mistake. According to his flatmate, Gao said: "f***ing rich ... I've got $1m''.
According to police, over the next few days $6.782m was transferred to overseas accounts before Gao fled the country.
His partner and the mother of his child, Kara Hurring, followed days later.
The couple's disappearance sparked an international manhunt involving Interpol and other overseas agencies.
Gao was arrested in Hong Kong last September and was returned to New Zealand just before Christmas. He did not oppose being extradited and was remanded in custody.
Hurring, 33, was arrested when she re-entered New Zealand earlier last year.
Following a trial at the Rotorua District Court last month, she was found guilty of 25 counts of theft, three counts of attempting to dishonestly use a documents and two counts of money laundering.
She will be sentenced in August.
- APNZ