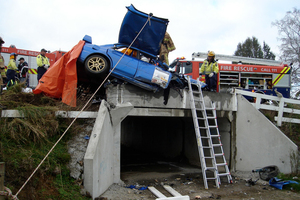 The rally driver who lost his leg when his car landed on a concrete culvert is "determined, in good shape and looking forward", according to his brother.
Stuart Scoular, 41, was driving in the Targa Rotorua Rally on Sunday morning when he took a corner too fast and smashed into a concrete underpass.
The bottom of his Subaru Impreza WRX was crushed and, according to a witness, "opened up like a can".
The Sydney-based accountant had his right leg amputated below the knee in the emergency department on Sunday night before undergoing four hours of surgery. His left leg and hip and right thigh are broken and further surgery is planned for those this week.
His brother Bret, 34, was co-driving and walked away unscathed - other than some nasty bruising from where the safety gear pushed into him.
Stuart and Bret's older brother Richard, who was co-ordinating his brothers' rally team at the weekend, said Stuart was coping well and had huge family support. His wife, Deborah, was holidaying in Brisbane when she learned of her husband's accident and has been by his bedside since late on Sunday.
The couple live in Sydney with their 4-year-old twins, Zak and Chanelle. The twins were expected to fly to Hamilton within the weekto be with their parents.
Stuart's determination was already shining through in his fast recovery, Richard said.
"They've moved him from intensive care ICU to high dependency ... he's ... in good shape, so to speak.
"He's a very, very positive guy and very forward thinking. No question he will grab this challenge - sadly - and move forward with it."
Stuart is expected to be in Waikato Hospital for four to six weeks before being able to return to Sydney.
"It's a life-changing event for Stuart and his direct family ... and there's a huge rehabilitation process to follow," Richard said.
The brothers were born in Otago but grew up in Wellington and moved to Australia as adults.
Richard, a former professional motorcyclist, said they all had a love of motorsports from an early age and in the past few years Stuart and Bret had realised their dream of racing.
This was the third year the brothers had raced at the Targa Rotorua rally.
Since the crash, Bret had told Richard they were "well within their abilities and speed" and were comfortable going into the second day's first stage.
Richard said it was a "normal, typical rally with a freak outcome".
Motorsport New Zealand chairman Brian Budd was still awaiting a report.