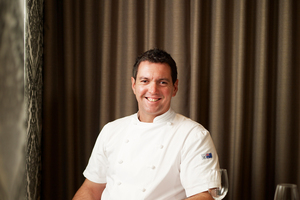 Chef Justin North. File photo / NZ Herald
Sydney-based New Zealand chef Justin North has placed his North Group of restaurants into voluntary administration.
North told Sydney's The Daily Telegraph that the company had expanded massively in the past 18 months.
"At the moment, it is run by basically myself and Georgia, three companies, eight different venues and 180 staff and 200 suppliers. "That's just way too big to continue where we are in this climate, so we just have to put in the controls ... so this doesn't happen again and we can trade successfully."
Restaurants in the group include Becasse, Quarter Twenty One, Becasse Bakery, Quarter Twenty One Providore, Charlie & Co, The Cookery School, Le Grand Cafe and Etch.
Mr North said "it's going to be business as usual" and it was too early to tell if any of his venues will close.
"It wouldn't be right if I were to identify different areas now because it would only be speculation," said the father of two who also has a big personal stake at risk.
"Me and Georgia have always been fully committed to our business and we have put our whole life and heart and soul into it and we are obviously very exposed but the alternative is to close everything up and we don't want to do that to our loyal staff and all our suppliers and creditors. We want the best outcome for everyone," he said.
North is originally from Blenheim. Prior to building his empire in Sydney he worked in Wellington's Park Royal, where he served his apprenticeship, then in Sydney, working for award-winning chef Dietmar Sawyere, before cooking in England for Michelin-starred Raymond Blanc of the famous Le Manoir Aux Quat' Saisons, and then in Paris.
He left school at 15 and signed on to a catering course. He told the Herald in 2010 it was because he thought it would be a good place to meet girls.
- APNZ