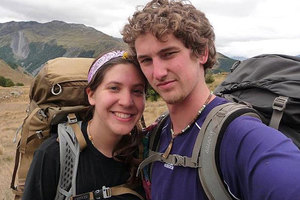 Natural hot pools helped keep two American students alive after spending several nights outside in sub-zero temperatures near Arthur's Pass.
Alec Brown and Erica Klintworth, both 21, had been expected to return from a tramp between Monday and Wednesday last week.
Friends reported the pair missing on Saturday evening.
The couple were not found until yesterday. Despite heavy snow and sub-zero temperatures in the area for several days, and not being equipped for extreme conditions, they were in good spirits.
The pair, from Wisconsin and studying at Canterbury University, slept in a hammock tent and regularly jumped into the nearby Otehake River hot springs to keep warm, The Press reported.
Mr Brown and Ms Klintworth had become stranded because of a swollen river and it was not until yesterday that river levels were low enough for them to safely cross.
West Coast Search and Rescue Co-ordinator Sergeant Sean Judd said the pair had made some good decisions, such as not crossing the river. However their preparedness and attention to the weather forecast was lax.
They had also failed to leave written intentions, he said.
Judd told The Press that had the hot pool not been there the students would probably have died.
- Herald online